Firms
Five Keys to Recruiting and Retaining Young Architect Talent
How can you find—and keep—young architect talent? Here are 5 key ways.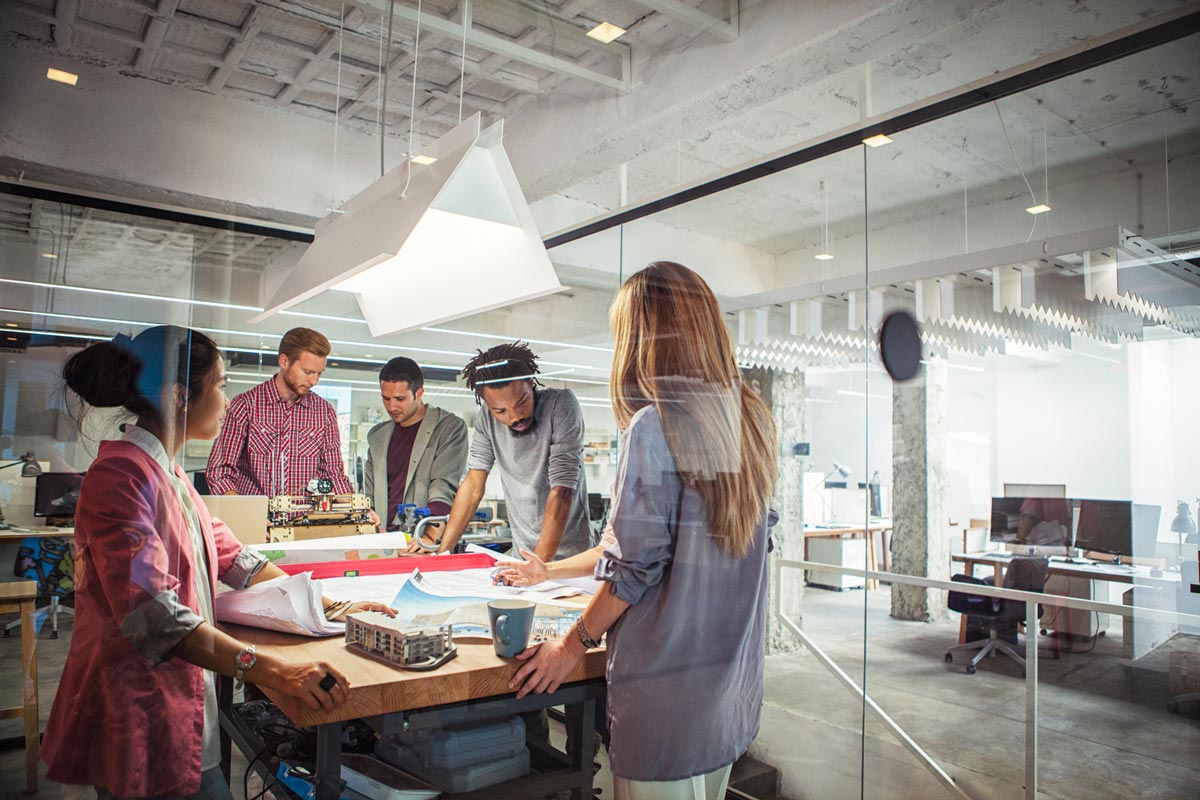 No matter the industry, finding—and then keeping—top talent is key to the long-term health of your business. And even though the job market is always evolving, there are specific ways architecture firms can make themselves appealing to young architects on the hunt for their next job.
We've gathered research and insights from principal architects and HR professionals in the field to help answer your burning talent acquisition and retention questions. How do you get quality employees in the door, and keep them there? How do you build a firm culture? How can you help employees feel supported?
To answer these questions and others like then, here are five keys to fill your talent pool with talented and happy young architects.
How to Find Top Talent
The first step in building an employee base is, of course, recruiting your talent. And hiring good employees starts with a job description that pulls them in.
Benefits like health insurance and 401k programs are good starts, but by now they should be baseline benefits that all firms offer. To stand out to young employees, you need to have benefit offerings that make you distinct, and that speak to the new world of work.
What are job-seekers looking for and valuing right now? Is it flexible hours or work from home options? New data from Forbes has found that people value mandatory paid time off and mental health assistance from their employers.
Different age groups have different values when it comes to the benefits they're looking for from their employers; do some research about what your target employees values, and if you offer those benefits, put them front and center in your job postings.
If you hire unlicensed staff, creating—and highlighting—a culture of learning in your firm is also a great way to attract top talent. Unlicensed staff want to know if you have a path and support system in place for them to get licensed while working for you, and if you highlight what path to licensure you offer, that'll set you apart from your competition.

Key #1: Include a Salary Range in Your Job Postings
Let's be real: No matter how invested a potential employee may seem in your company or your mission, their biggest question is about the salary range. Respect their time—and yours—by being upfront about what the expected salary range is for a given position. If your salary expectations aren't aligned, but you don't find out until the offer stage of the application process, you have to go back to square one and start over again.
Aside from the time resource being wasted by a lack of transparency, whether or not the salary is in the job description actually impacts whether or not most employees will apply in the first place. If you're struggling to fill open positions, try adding your salary to the job posting and see if that makes a difference.
Key #2: Promote the Path to Licensure That You Already Provide
If you're already offering a path to licensure for your staff, make sure people know about it right away in your job posting. It's a great way to grab a prospective candidate's interest, especially one that's only a few years out of architecture school and looking for support in getting their license.
A report from DesignIntelligence indicates 71% of firms pay for some or all of the expenses associated with preparing to take the ARE®. Yet surprisingly, many fail to advertise it.
Successful firms of all sizes often choose to tap into 3rd party resources like Black Spectacles, which offer solutions that help aspiring architects prepare for the ARE. One example is Skidmore, Owings & Merrill (SOM). Michael Archer, AIA, NCARB, of SOM points out, "I was continually being asked [by our staff], 'Can you provide something?' And now I can say we are…[Black Spectacles] is essentially curating all of the material someone would use to get through an exam."
While supplying your emerging talent with a licensing mentor is important (we'll get to this later), it's just as vital to make sure that they have the tools they need to pursue licensure on their own time. Let candidates know you set your staff up for success and support their career development as it pertains to licensure. It benefits them, and ultimately, you.
Now that you have quality team members you have to retain them. Keeping good employees starts by keeping your promises.
Kerry Harding, President and Chief Recruiting Officer of The Talent Bank, reveals what can happen if expectations aren't met. "One of the nation's largest A/E firms was horrified to discover that 21 percent of their staff left within two years of their start date," said Harding. "Further research indicated that there were a number of systemic failures beginning with the onboarding process, including broken promises regarding compensation and benefit issues."
How do you avoid this? The next three keys are actionable steps that you can implement right now to increase your chances of avoiding the dreaded one-to-two year turnover:
Key #3: Be Upfront About Your Career Development Resources
Management has less than two years to show their new talent how the organization can provide them a sense of purpose and a road map for growth. Otherwise, this younger generation will go searching for purpose elsewhere.
One way to combat that is to present the career roadmap like a syllabus during employee onboarding and customize it based on their position, talent level, and goals. It should literally spell out what's expected throughout the year. To ensure a consistently engaged employee, consider establishing weekly, monthly, quarterly, and annual goals.
The value of a development program, especially if given a high degree of personalization, can't be overstated, says Lisa Henry, CEO of the Greenway Group. "A strategy to engage and retain top people is to create and communicate defined pathways for advancement," says Henry. "Too often this important source of talent engagement is developed on an ad hoc basis."
Key #4: Provide a Mentorship Program
Mentorship programs make firm leadership accessible to the employees and create a culture of growth and development. Consider pairing newly licensed architects with unlicensed candidates. Make the mentorship program a regularly scheduled meeting to encourage accountability from participants and show commitment to the development of the employees.
Some firms also appoint a licensing advisor, oftentimes a recently licensed architect, in the organization to serve as the point person for testing candidates. A licensing advisor provides a source of support and guidance for employees pursuing licensure.
According to a survey conducted by Deloitte, millennials and Gen Z employees have high expectations for regular, consistent, and meaningful feedback. Although this does take time, it's worth the investment to make sure your staff feels supported and heard.
In fact, an investment in time may pay big dividends in other areas long-term. The study also found that millennials who had a mentor were more likely to stay with their current employer than those who didn't.
Of those employees intending to stay five years or more
68%
32%
have a mentor do not have a mentor
Key #5: Keep Employees Engaged
According to Gallup, 75 percent of employees leave their jobs because of factors within management's control. "Highly talented employees who are not engaged were among those who had the highest turnover," states Gallup.
Engagement begins with making sure an employee is a fit for their role. Employees are a company's most valuable resource and the leading indicator of financial success, so ensuring you have the right people in the right seat on the bus is key. It is especially important to ensure top talent are in roles best suited to challenge and fulfill them. Use tools such as Culture Index to analyze the traits and culture of your existing workforce.
An effective leader helps their team get what it wants first. In turn, the team shows higher engagement and loyalty to the organization which builds and maintains a healthy, positive environment ripe for growth and success.