ARE 5.0 Study Materials
ARE 5.0 Test Prep Quizzes
It's time for a quiz break.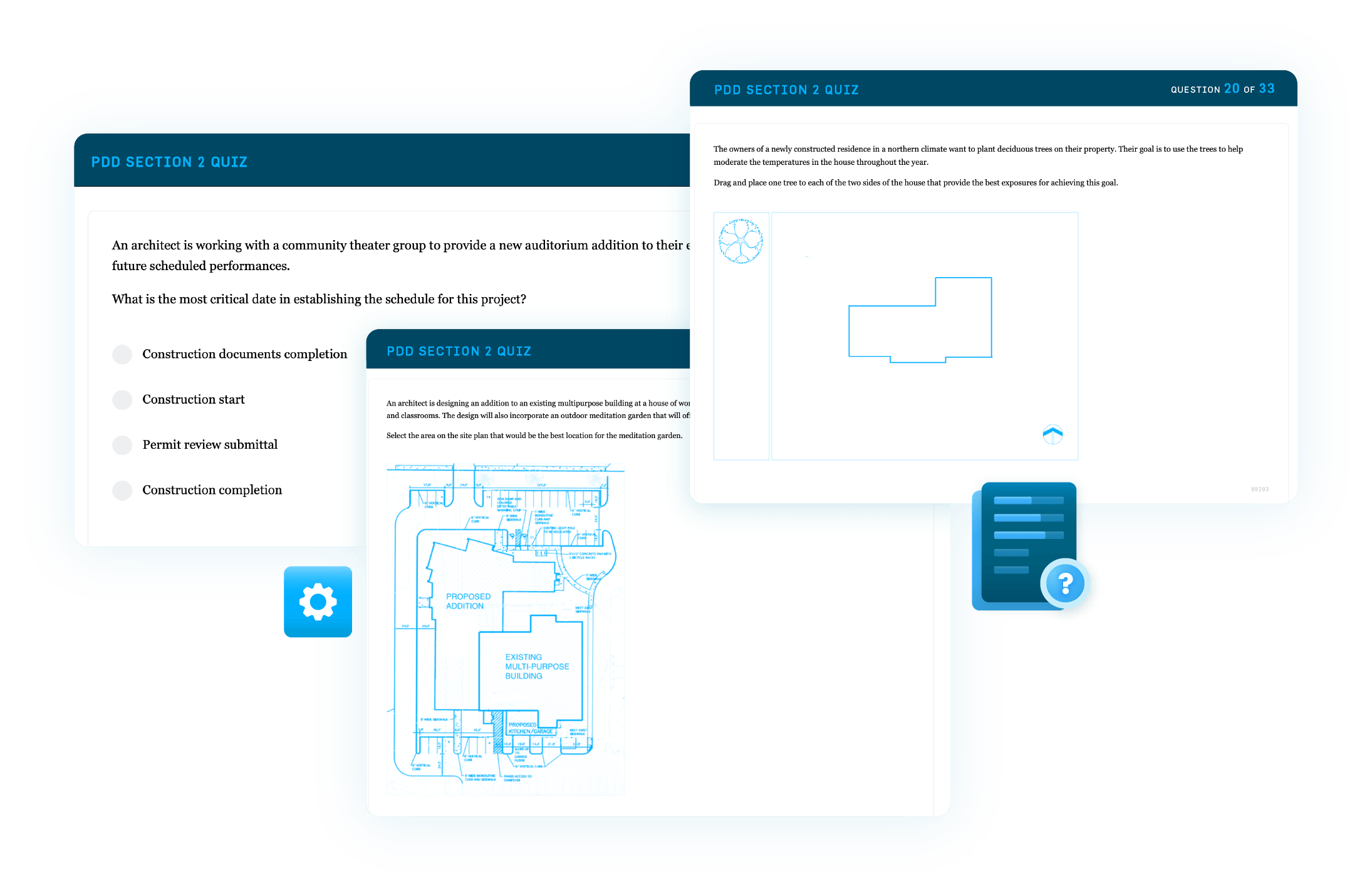 ARE 5.0 Quizzes designed to help you retain everything you learn
In addition to practice exams, we have two different kinds of quizzes to help you test your knowledge: section quizzes and quiz breaks. In both cases, you'll be able to use the answer explanations to deepen your understanding of the content and go back to the source material if you need further review.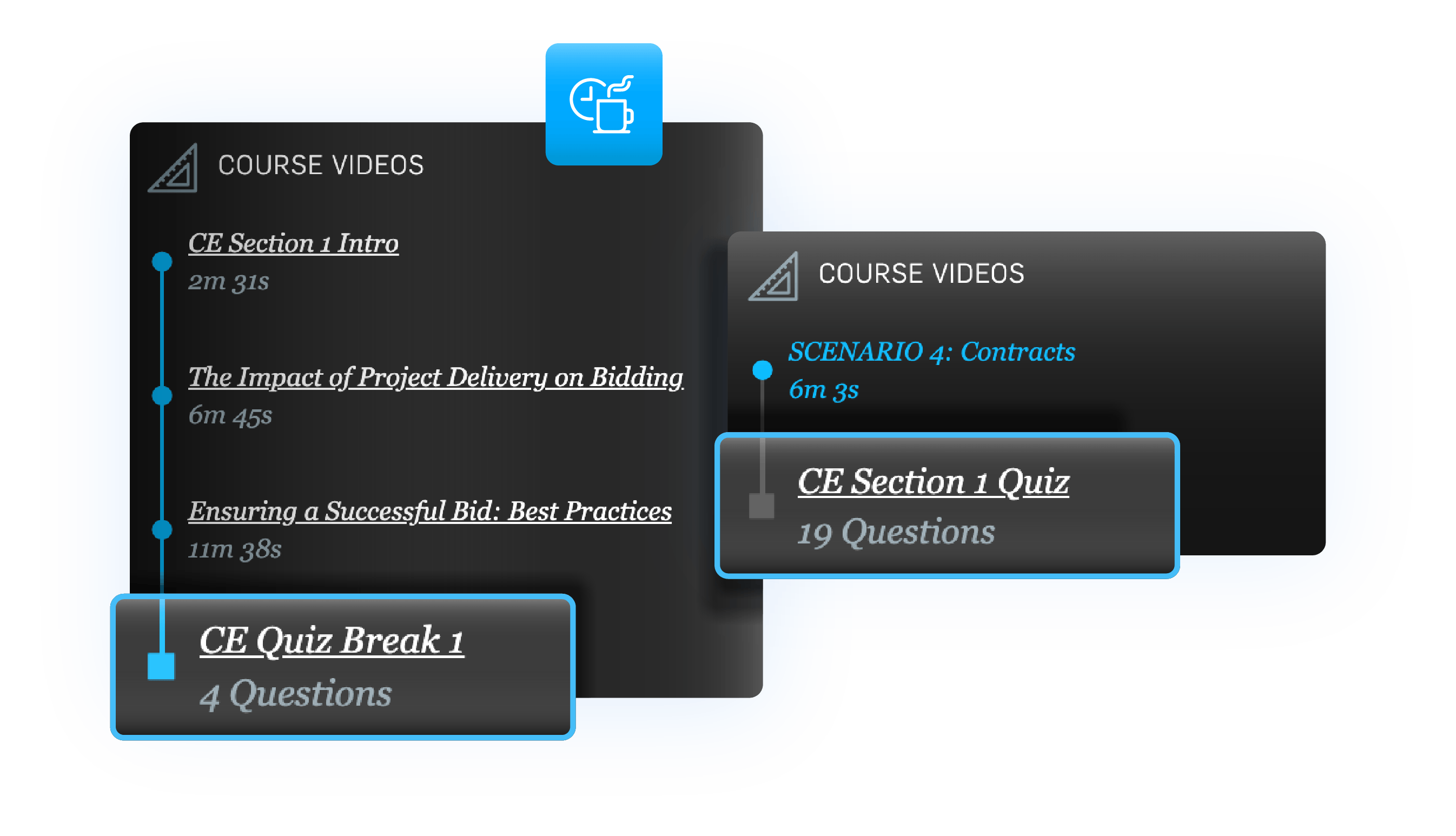 Quiz breaks test your knowledge at shorter intervals
The quiz breaks are the shorter of the two quiz options; they're usually 2 or 3 questions, and they're directly related to the videos that immediately preceded them. This makes them as close as possible to their associated content area, and lets you check whether or not you retained that information pretty much right as you learn it.

The section quizzes are—you guessed it—at the end of each section, and are a bit longer at roughly 20 questions each. You can think of these as a mini practice exam, helping you build up to the practice exams without the pressure of having to remember everything. You can use these quizzes to determine if you're ready to move on, or if you should spend more time in the section before starting a new one.
Quiz questions are written with the same level of vigor as the practice exam questions—just because these questions are shorter doesn't mean they're softballs. All the quiz break and section quiz questions have the same level of complexity you can expect on the real exam.
Section quizzes give you a full score report
After you take each section quiz or quiz break, you'll get a full score report showing all the answers to every question, including why the wrong answers are incorrect and what source material we used for it, so you can go back for further review if you want.
This helps you understand where you went wrong on questions you got incorrect, but it can also help reinforce the answers you did get right—meaning you shouldn't skip over the answer explanations! We show our work, so you can see exactly what thought process goes into each question and how you should answer it.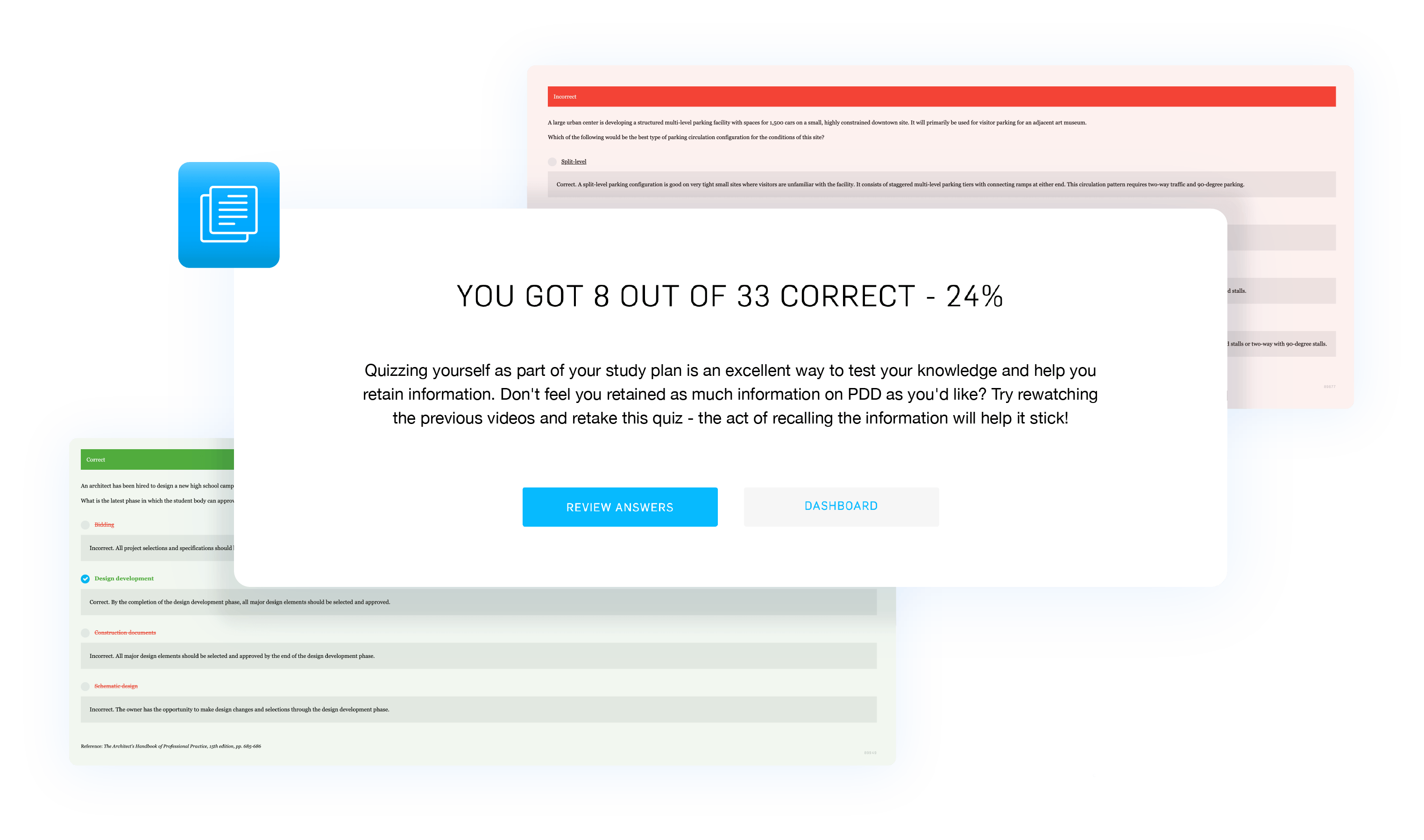 Part of a holistic learning environment
The quizzes are integrated right into our video lectures on purpose: They're meant to be used in tandem with each other, and to reinforce all the material you learn from the videos themselves. Use the quizzes as a tool while you're studying to see what areas you've got covered, and where you need to spend more time reviewing.
More architects trust Black Spectacles for their ARE 5.0 study materials than any provider. See what our 25,000+ customers have to say:
Can I see all my previous quiz answers?
You can review your quiz answers immediately after taking your quiz in your score report, as well as the explanations for each answer. Once you exit the answer review session, you won't be able to see the answer explantations unless you take the quiz again.
Do quizzes affect my Pass the ARE Guarantee claim?
Nope! At this time, your quiz scores aren't part of the requirements for the guarantee.
Is there a limit to how many times I can take each quiz?
No! You can take each quiz as many times as you'd like to review the information and improve your score. The quizzes are also not timed.
Are quiz breaks available for all six divisions?
Currently, all six divisions have section quizzes, but only CE and PcM have the shorter quiz breaks. We're in the process of updating the rest of the divisions, so they will soon have quiz breaks as well. Stay tuned!
Get your licensure over with, once and for all