Architect Education
Accredited vs. Non-Accredited Architecture Schools: What's the Difference?
Should you go to an accredited or non-accredited architecture school? Black Spectacles breaks down the benefits of these types of architecture programs.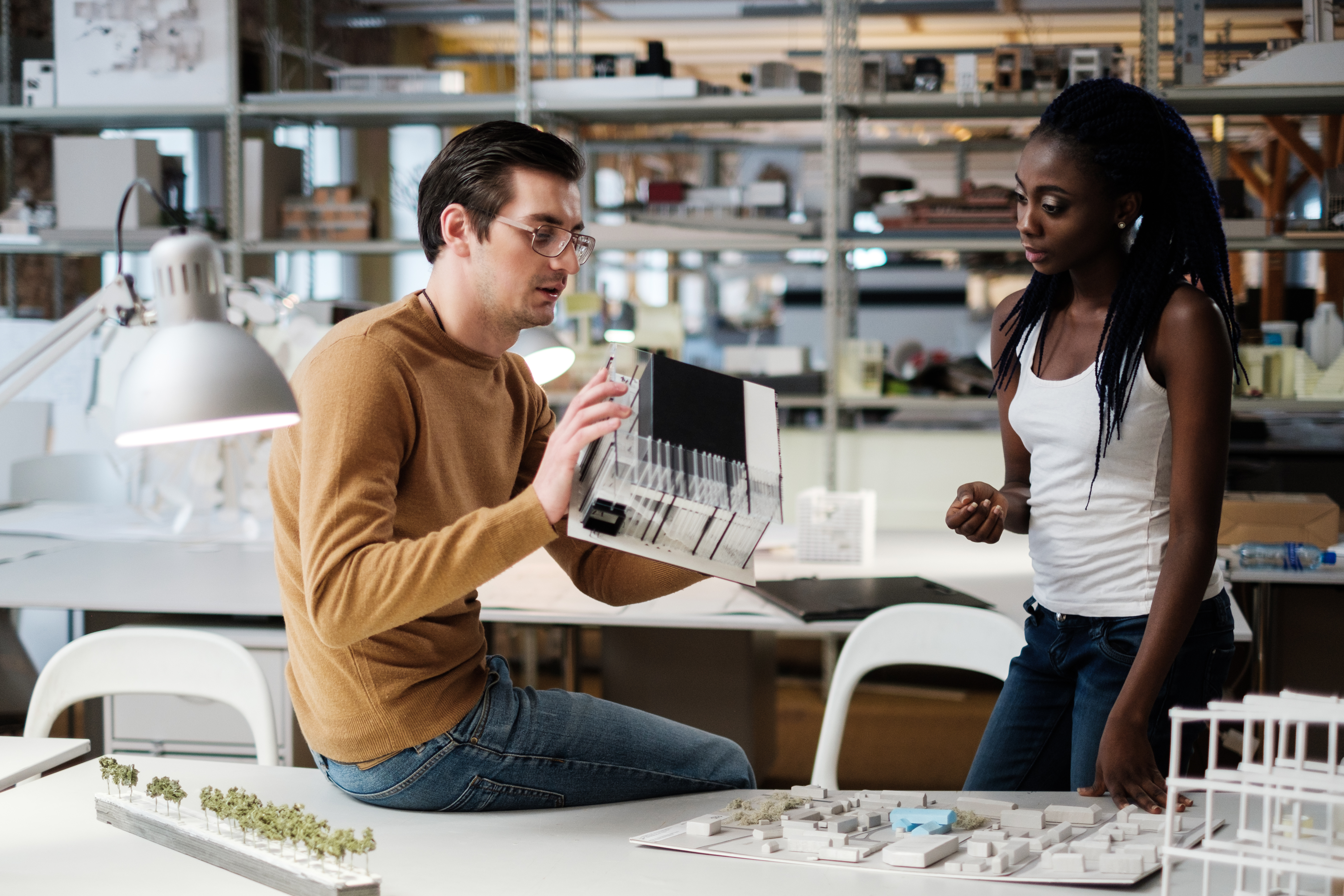 Architecture school is a big investment of both time and money, so you want to be sure that you're choosing the right one. For a lot of students, that means attending an accredited architecture school—but what does it mean to be accredited? And what can you do with your degree if it's not?
Here, we'll break down what it means for a program to be NAAB-accredited, why it can be beneficial to attend one—and how you can still grow in your career without an accredited degree.
What Does it Mean to Be NAAB-Accredited?
The National Architectural Accrediting Board (NAAB) is the agency that evaluates architecture degree programs across the US and ensures these programs adequately prepare students to enter the field of architecture.
For programs to get accredited, programs have to go through a continuous review process that ensures its quality and the readiness of its students.
The accrediting process goes through a cycle of the following:
Self-study:

The school or program prepares a written summary that addresses the

NAAB Conditions and Procedures for Accreditation.

Peer review:

A team of educators, practitioners, regulators, and students reviews the self-study and visits the school to evaluate the program. This team is made of unpaid volunteers.

Prepare visiting team report (VTR):

At the end of their visit, the visiting team prepares a report documenting their findings. This report includes things like progress since the last visit (if there was one), conditions met and not met, and causes for concern. The NAAB then uses this report as a recommendation for accreditation or not.

Action and judgment by the board:

Based on the findings in the VTR, the NAAB board can vote to grant, continue, or deny accreditation to the program.
Accreditation isn't a one and done process; it's a status that programs have to continuously earn, and if the visiting team and NAAB think their standards have changed, accreditation can be revoked. Programs have to resubmit and continue to be accredited on time cycles that range from every few to every eight years.
This ongoing review ensures that programs keep up their same standards and are adequately preparing their students for the professional world. It also allows schools who previously weren't accredited to submit (or resubmit) their proposal and earn accreditation status.
Why Choose an Accredited Architecture Program?
At the time of this writing, there are 173 NAAB-accredited programs offered by 137 institutions in the United States. But even with so many accredited options across the country, there are plenty that aren't accredited as well—so why choose an accredited architecture program?
There are a few different benefits of having an accredited degree depending on where you want your career to go and what you want to do after you graduate. One big area it can impact is your path to licensure.
Most state licensing boards require their candidates for licensure to have a degree from an NAAB-accredited school. If you haven't yet gotten your degree and think that licensure is something you might want to pursue in the future, then having an accredited degree keeps that option open for you—even if you're not 100% sure about getting your license right now.
What is the goal of an accredited program?
The goal of accredited programs is to help prepare young professionals for the field, and this plays out in the number as well. According to NCARB By the Numbers 2022, graduates of NAAB-accredited programs have 5% higher pass rates on the ARE than graduates of non-accredited programs, and MArch graduates have a 4% higher pass rate than graduates of BArch programs.
So if you think getting your license is in your future, having the foundational knowledge that an accredited program gives you can pay off in passing the ARE.
What Can You Do With an Unaccredited Degree?
If you already graduated from an unaccredited program, you may be feeling a bit stressed out reading this. But don't worry—there are still ways you can work as an architect and even get your license even if you don't have an accredited degree.
Some degrees, like a Bachelor of Science in Architecture or a Bachelor of Environmental Design, often aren't accredited, but still give you a solid background for working in the architecture field. Plus, these programs often meet the requirements for applying to an MArch degree, so you still have the option to get an accredited degree if you want to.
If you want to work in architecture but aren't concerned about getting your license, then these kinds of programs and other non-accredited degrees might be a great fit for you. It's largely if you want to get your license that accredited programs come into play—and you still have options there too.
Accessible ways to enter the architecture field
Through the Education Alternatives initiative, NCARB has created alternate paths to licensure for graduates of non-accredited programs. Some jurisdictions allow these candidates to earn and document additional experience working in architecture. The exact number of hours and other requirements vary slightly by jurisdiction, so if you're interested in exploring that option make sure you check out NCARB's Licensing Requirements Tool.
In the 2022 By The Numbers report, NCARB also calls out that the rising costs of higher education makes these requirements for licensure an obstacle for marginalized and underrepresented groups that want to enter the profession, and that they're exploring other, more accessible ways to enter the profession while still upholding rigorous standards. This is something to watch out for in the future, as it can be a game-changer for who's able to become an architect.
Bottom Line: Is an Accredited Degree Worth It?
As with so many questions related to architecture education, the answer to this one is "It depends." When you're picking your architecture school, you have to consider everything—like cost, location, and program outcomes.
It's hard to know right now what you'll want from your career in the future, but if you have any interest at all in getting your license, then an accredited program is probably the way to go. It'll make it easier for you to start the licensure process when you get there. And if you decide not to pursue your license, you haven't really lost anything, since you probably needed the degree one way or another anyway.